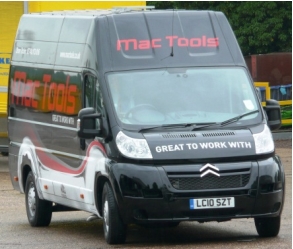 "MAC tools have been working with V4Vans since April 2009 during the development and execution of the roll out of the MAC franchise model. V4Vans have been heavily involved in the work involved with the all-important Van supply and fit out to arranging the funding for the purchase of the vehicles by the New Franchisees.
V4Vans have been able to remove most of the burden of vehicle supply, sign writing and complete fit out to such an extent that MAC Tools are pleased to pass on any potential franchisees to V4Vans who communicate directly with them from the inception to the completion of the whole job. We are always kept in touch with how things are progressing and have always found them to be thorough and professional, so much so that V4Vans are now our only nominated vehicle supplier across the range of vans and trucks required within our organisation.
We would have no hesitation in recommending V4vans to any Van based Franchise".