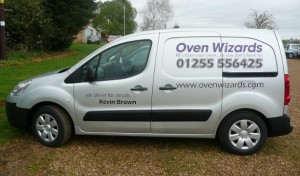 Having met with the Owners of Oven Wizards at a Franchise Suppliers Showcase V4Vans have been steadily developing the internal conversion design alongside Oven Wizards and whilst every project is evolutionary the current design has been met with positive feedback from the Operatives.
V4Vans set out by understanding the usage and requirements of the components of the conversion to come up with a solution that makes not only efficient usage but also ease of use by the all-important "Man in the field."
We held regular meetings with suppliers regarding the design of the tank to allow for a quick access to and closure of the lid associated with a swift drainage system. Interior lighting of the van was also looked at with a resolution being put forward utilising modern LED strip lights to allow for a bright working environment whilst the operative works out of the back of the van.